When I connect all of the prophectic dots, it tells me this is setting the stage absolutely for THE MARK OF THE BEAST! With all the recent speculation on the true nature of the COVID vaccine, many Christians, have been wondering if there could be a connection between the vaccine and the coming Mark of the Beast. SPOILER ALERT: there is. But it's not as simple as that, there is more to it. And with all this renewed interested in the 13th chapter of Revelation, some bible teacher have begun to teach that perhaps taking the Mark is not the unforgivable sin the bible says it is. So what's the gospel truth here? People want to know if there are any circumstances under which God will forgive someone who takes the Mark of the Beast, and speaking to that directly, the Bible offers no hope of any kind to a person who takes the Mark. None, zero, nada, zilch.

1. PATENT WO2020060606: THE PATH TO CONTROLLING THE BUYING AND SELLING
Microsoft, along with Bill Gates, obtained this international patent in 2020: Patent WO2020060606 – Cryptocurrency System Using Body Activity Data. Yes, this patent is real as is its number.
Here is the legal description of the patent:
Human body activity associated with a task provided to a user may be used in a mining process of a cryptocurrency system. A server may provide a task to a device of a user which is communicatively coupled to the server. A sensor communicatively coupled to or comprised in the device of the user may sense body activity of the user. Body activity data may be generated based on the sensed body activity of the user. The cryptocurrency system communicatively coupled to the device of the user may verify if the body activity data satisfies one or more conditions set by the cryptocurrency system, and award cryptocurrency to the user whose body activity data is verified.
This patent envisions the use of a sensor that detects "the body activity of the user" and reports it to an outside digital computing source. The behavior of the individual then becomes the basis for his or her award of "cryptocurrency." The reward or lack thereof results from what the sensor reports regarding the conduct of the individual.
Now imagine a world where all currency exists digitally, and that day is coming, and your receipt of it does not come from the fruit of your labor, but from behaving according to the desires of a distant governing body that sets the parameters by which the computing source rewards you. This is the future envisioned by Patent WO2020060606 – Cryptocurrency System Using Body Activity Data.
We do not know whether or not the antichrist uses this exact system to control the world's commerce. However, the patent gives us a clear picture of how he will accomplish this task and tells us that the technology and planning already exist for it. We also know that other existing technologies, especially artificial intelligence, make it possible for one person to control the commerce on such a massive scale.

2. ID2020: THE PATH TO INCLUDE THE "GREAT AND SMALL" IN THE MARK
What about people in the remote parts of the earth? Does Bill Gates have a plan to include them in his futuristic world of reward and punishment? Yes, he does.
ID2020 is another Bill Gates and Microsoft initiative that seeks to provide 1.1 billion people in the world with the legal identification that they currently lack; it will give them a digital ID along with a vaccine, of course.
Here is a description of ID2020 from the official Microsoft blog, dated January 22, 2018:
As discussions begin this week at the World Economic Forum, creating universal access to identity is an issue at the top of Microsoft's agenda, and we think technology can be a powerful tool to tackle this challenge. It was last summer that Microsoft took a first step, collaborating with Accenture and Avanade on a blockchain-based identity prototype on Microsoft Azure. Together, we pursued this work in support of the ID2020 Alliance – a global public-private partnership dedicated to aiding the 1.1 billion people around the world who lack any legal form of identity. To say that we were encouraged by its mission would be an understatement. We were inspired by it.
Today, we are excited to share that we are deepening our commitment to this issue by formally joining ID2020 as a founding member. In addition to a donation of $1 million, we will commit resources and expertise to further develop a secure, portable form of digital identity and help implement it across governments and agencies.
Notice the players include the World Economic Forum (WEF) that vigorously promotes both the Great Reset and transhumanism. ID2020 is not some isolated initiative that does not relate to the COVID-19 injections or the Great Reset; it's all about identifying everyone on earth so the globalists can include them into their system of worldwide control, vaccinate them, and thereby monitor and control them.

3. "QUANTUM DOT" TECHNOLOGY: THE PATH TO MARKING THE RIGHT HAND OR FOREHEAD
So far, we have looked at the plans of the globalists to incorporate everyone on the planet into their scheme of controlling the flow of digital currency. But how do they intend to do this?  
"Quantum dot" technology answers that question and I believe this will someday become the means for the antichrist to deliver his infamous mark and accompanying vaccine to the entire population of the world. By it, he will mark those who belong to him by tattooing their right hand or forehead.
Bill Gates, in March of 2020, referred to "quantum dot" technology as the means for implantable vaccine "digital certificates" thus connecting this emerging technology to his ID2020 initiative.
The 'digital certificates' Gates was referring to are human-implantable 'QUANTUM-DOT TATTOOS' that researchers at MIT and Rice University are working on as a way to hold vaccination records. It was last year in December when scientists from the two universities revealed that they were working on these quantum-dot tattoos after Bill Gates approached them about solving the problem of identifying those who have not been vaccinated.
The quantum-dot tattoos involve applying dissolvable sugar-based microneedles that contain a vaccine and fluorescent copper-based 'quantum dots' embedded inside biocompatible, micron-scale capsules. After the microneedles dissolve under the skin, they leave the encapsulated quantum dots whose patterns can be read to identify the vaccine that was administered.
The quantum-dot tattoos will likely be supplemented with Bill Gates' other undertaking called ID2020, which is an ambitious project by Microsoft to solve the problem of over 1 billion people who live without an officially recognized identity. ID2020 is solving this through digital identity. Currently, the most feasible way of implementing digital identity is either through smartphones or RFID microchip implants.
The quantum dot delivery of a future vaccine will connect the recipient to an external digital source via the ID2020 technology to verify his or her vaccination. However, from everything we have learned so far about transhumanism and the sinister plans of the globalists, we recognize this as a key part of their agenda for world domination under the Great Reset of the WEF or the UN's Agenda 2030, which necessitates the augmenting of humans via vaccines to make them compliant and obedient to the demands of the coming tyrannical and communistic one-world government, which will be slavery by any other name.
Please also note that the "quantum dot" technology will enable the antichrist to both mark and vaccinate people on the hand or the forehead.

CONNECTING THE DOTS
In summary, I will let Todd Hampson connect the dots for us:
The UN officially adopts a plan to change everything by 2030 with the promise that "no one will be left behind." Bill Gates pledges a "decade of vaccines" that culminates in the year 2030, and at the same time funds ID2020 with a manifesto that says (among many other things), "everyone should be able to assert their identity across institutional and national borders, and across time," and that they want to provide "an alternative to individuals lacking safe and reliable access to state-based systems."
In other words, vaccines and digital ID are merging together. But how?
Enter quantum dot technology. This new technology is well known, freely discussed in various online tech articles, and is the next step beyond microchipping. As I understand it, visible and invisible ink can be tattooed on someone as they are receiving a vaccine.
Embedded in this tattoo is digital technology that verifies they have had said vaccine. Presumably, this could also be technology used to give everyone/anyone a permanent digital ID.

Consider how the above three initiatives illuminate the path of the world to the mark of the beast:
With Patent WO2020060606, we have a picture of how existing technology will enable the antichrist to not only control the buying and selling of everyone, but also regulate their behavior once they receive his mark and vaccine.

Bill Gates' ID2020 reveals his not-so-secret agenda to include everyone, "small and great, both rich and poor, both free and slave" in his program to vaccinate everyone and provide them with a digital identity.

Through "quantum dot" technology, the coming "man of lawlessness" will be able to mark or tattoo everyone "on the right hand or the forehead," provide everyone a digital ID that will track their every move and action, and vaccinate them at the same time.
Is it really so much of a stretch to connect the push for transhumanism with what God's Word says will happen during the tribulation? Does recognizing the uncanny similarities between the agenda of the transhumanists and Revelation 13:16-18 really make someone a "conspiracy theorist?" I don't think so.
Revelation 13 is not futurist code or a passage that one can twist to apply to the entire church age. If we look at what the apostle John wrote, what he intended to communicate, we see that it points to a literal mark from a real antichrist.
Do not let anyone deceive you into thinking that this is all symbolic with smooth sounding distortions of God's Word.
With all the recent speculation on the true nature of the COVID vaccine, many Christians, have been wondering if there could be a connection between the vaccine and the coming Mark of the Beast. SPOILER ALERT: there is. But it's not as simple as that, there is more to it. And with all this renewed interested in the 13th chapter of Revelation, some bible teacher have begun to teach that perhaps taking the Mark is not the unforgivable sin the bible says it is. So what's the gospel truth here?
People want to know if there are any circumstances under which God will forgive someone who takes the Mark of the Beast, and speaking to that directly, the Bible offers no hope of any kind to a person who takes the Mark. None, zero, nada, zilch.

WHO IS THE BEAST?                                          The beast referred to in the above text is none other than the antichrist. He is the beast that will rise to power at the start of the tribulation and assume total control of all the nations of the earth by its midpoint if not before. He's the "man of lawlessness" that Paul wrote about in 2 Thessalonians 2:3-10. Halfway through the seven-year tribulation, the antichrist will defile the Jewish temple in Jerusalem.
This desecration will begin his reign of terror in which he will demand that everyone on earth worship him as God (Rev. 13:5-9). It's during the last 42 months of the tribulation that the antichrist will "make war on the saints" as well as the Jews. This is the time Jesus warned about in Matthew 24:15-22, which will be a time of great persecution for the Jews as well as for those who refuse to take the mark.
While the technology for the mark may already be in widespread use before the halfway point of the tribulation, at this point it will become mandatory along with the worship of the antichrist (see also Rev. 14:9) The penalty for refusing to worship the beast and take his mark will be certain death, most likely by beheading (Rev. 20:4).

The move is an effort to encourage people to receive the vaccination, and authorities will begin restricting access to shopping malls, restaurants, cafes, sporting events, museums, gyms, schools and universities in Abu Dhabi, the Associated Press reported. A "green pass" system has already been implemented that limits public access to those who are vaccinated or can show proof of testing negative for coronavirus. W<span;>hat's happening now<span;> in Abu Dhabi is happening in cities, towns and states around the world, the forced segregation of those people who refuse to receive the experimental COVID-19 mRNA vaccine. 


WHAT IS THE MARK?                                      The word in the Greek for "mark" suggests that it will be a visible stamp or a permanent tattoo that will display one's allegiance to the beast as well as allow that person to engage in commerce. It could be some sort of barcode whereby the store scans the person and the groceries or clothes one is buying into the system. More likely, one's identifying information will be stored on a computer chip underneath the mark that will instantly connect the person with all his or her information on a distant central database that will instantly reveal whether or not the person has the necessary digital money to complete the purchase.
Peter Koenig, a geopolitical analyst and former Senior Economist at the World Bank and the World Health Organization (WHO), wrote the following about ID2020, which contains all the key elements for the coming mark of the beast described in Revelation 13.
What is the infamous ID2020? It is an alliance of public-private partners, including UN agencies and civil society. It's an electronic ID program that uses generalized vaccination as a platform for digital identity.
Another hypothesis, at this point only a hypothesis, but a realistic one, is that along with the vaccination – if not with this one, then possibly with a later one, a nano-chip may be injected, unknown to the person being vaccinated. The chip may be remotely charged with all your personal data, including bank accounts – digital money. Yes, digital money that's what "they" are aiming at, so you really have no control any more over your health and other intimate data, but also over your earnings and spending. Your money could be blocked, or taken away – as a 'sanction' for misbehavior, for swimming against the stream. You may become a mere slave of the masters.
We are moving towards a totalitarian state of the world. This is part of Agenda ID2020 – and these steps to be implemented now – prepared since long, including by the coronavirus computer simulation at Johns Hopkins in Baltimore on 18 October 2019, sponsored by the WEF and the Bill and Melinda Gates Foundation.
We know from Scripture that without the mark of the beast, people will not be able to buy or sell. Peter Koenig, who is not a believer and does not reference the mark in his articles, says that even with ID2020, one's behavior may determine whether or not one has full access to his or her funds.
We not only have the technology to make it a reality, but the globalists at the World Economic Forum (WEF), UN, and elsewhere talk openly about ID2020, which sounds remarkably similar to the mark of the beast described in Revelation 13.

NEW YORK TO ADOPT PROGRAM SIMILAR TO ISRAEL'S 'GREEN PASSPORT'!                     New York's version, released Friday, will be dubbed the "Excelsior Pass," and, like Israel's version, will be available via an app to prove a person's vaccination status. The NY pass could also be used to prove a recent negative COVID-19 test, which would allow them to enter events or businesses, New York Gov. Andrew Cuomo said, according to The New York Post "Similar to a mobile airline boarding pass, individuals will be able to either print out their pass or store it on their smartphones using the Excelsior Pass Wallet app," a statement by the governor's office said.


Biden's Vaccine Passport Plan Is A 'Dystopian Nightmare' Cloaked In COVID Safety-Speak!
"They are actually talking about people's ability to buy and sell linked to the vaccine passport," the Georgia congresswoman wrote on Twitter, hitting out at the potential new plan.

24 WORLD LEADERS CALL FOR MORE GLOBALISM IN WAKE OF PANDEMIC!
Twenty four world leaders have signed a letter calling for more globalism to combat future pandemics, citing the the coronavirus outbreak as an opportunity to consign nationalism to the dustbin of history.
UK prime minister Boris Johnson, German chancellor Angela Merkel, and French president Emmanuel Macron are the leading figures behind the pledge, with 21 other heads of state signing the letter.
It states that "nobody is safe until everyone is safe," and that a "global community" must be further implemented in order to combat 'inevitable' future pandemics.
"At a time when Covid-19 has exploited our weaknesses and divisions, we must seize this opportunity and come together as a global community for peaceful cooperation that extends beyond this crisis," the letter states.
"Building our capacities and systems to do this will take time and require a sustained political, financial and societal commitment over many years," it adds.
The letter compares the situation to the aftermath of the Second World War, and urges an end to "isolationism and nationalism".
The pledge calls for a strengthening of the World Health Organisation's infrastructure, despite the global health body's documented failures in regards to the pandemic, and continued charges that it has facilitated the communist Chinese government's lies and deceptions.
WHO director general Dr Tedros Adhanom Ghebreyesus also signed the letter, having repeatedly slammed nations including Britain and the US for putting their own populations first when it comes to recovery.
The letter specifically calls for a global treaty on pandemics to be signed to establish international 'rules and norms' for vaccine production and distribution, as well as coordination on 'alert systems, data-sharing and research'.
Presumably any global treaty would also address restrictions to be put in place under future pandemics, although that is not made clear in the letter.
Below is the full Letter signed by 24 world leaders (emphasis ours): The Covid-19 pandemic is the biggest challenge to the global community since the 1940s. At that time, following the devastation of two world wars, political leaders came together to forge the multilateral system. The aims were clear: to bring countries together, to dispel the temptations of isolationism and nationalism, and to address the challenges that could only be achieved together in the spirit of solidarity and cooperation: namely, peace, prosperity, health and security.

WILL ACCEPTING THE MARK OF THE BEAST SEAL ONE'S ETERNAL FATE?              Revelation 14:9-11 tells us that those who worship the beast and receive his mark will face an eternity in hell. These verses do not allow for repentance or for turning to Christ once a person receives the mark, which will seal their eternal fate.
Besides worshiping the antichrist, is there anything else about taking this mark that might make a person's eternal destiny irreversible? Yes! Many prophecy speakers suggest, and I agree, that the transhuman element inherent in the future plans discussed by the WEF may be the reason for this. If the mark that the antichrist will force people to take during the tribulation changes the DNA of people as the globalists plan to do through future vaccines, these injections may change people to the extent that they are no longer part of the human race for which Jesus died on the cross.
Bill Gates openly discusses his plans to change our DNA with vaccines. The globalists make no secret whatsoever of their intent to change humanity into something unrecognizable at the current time.
It's what Klaus Schwab, the founder of the WEF, refers to as "Fourth Industrial Revolution;" though it's far different than the previous ones. He wrote this about the transhuman nature of people once this new industrial revolution takes hold during The Great Reset:
Previous industrial revolutions liberated humankind from animal power, made mass production possible and brought digital capabilities to billions of people. This Fourth Industrial Revolution is, however, fundamentally different. It is characterized by a range of new technologies that are fusing the physical, digital and biological worlds, impacting all disciplines, economies and industries, and even challenging ideas about what it means to be human.
Klaus Schwab intends to dramatically change the human race by combining individuals with machines that decades ago was only the stuff of wild science fiction. Now, it's a part of The Great Reset that has captured the admiration of world leaders!

Peter Koenig wrote this about the tyranny the globalists' plans for humanity:
It is not without reference to the 2010 Rockefeller Report which foresaw and planned as the first phase of their deliberate "Human Transformation" – the Lockstep scenario.
The transformation as we now know, is planned to be nothing less than a modification and digitization of the human genome, robotization of our brains – so as to gain total control over the population – those that are left of us, after the UN agenda 2021-2030 is fully implemented.
It's staggering to contemplate that the elite of our world have already put so much planning into what appears to be what Revelation 13 and 14 describe as the mark of the beast. And if we see such open discussion preparation for something that the antichrist will not be fully implement and enforce until the midpoint of the seven-year tribulation, how close are we to its start?

The World Economic Forum is not only thoroughly bonded to Sustainable Development, aka Technocracy, but also to Transhumanism leading to biodigital convergence.
The COVID pandemic has ushered in a new era of biodigital convergence — one that's been in the works for decades but is now accelerating in the name of public health and new normalcy. As I said June 7, 2021, the most freedom in this new era will be awarded to those who are vaccinated.
Speaking with The Andrew Narr Show, Tony Blair, former prime minister of Great Britain and Northern Ireland, affirmed this, stating, "It's important to distinguish between the vaccinated and the unvaccinated. Giving the vaccinated the most amount of freedoms."
Those who comply will earn their freedom back, setting the mindset that by getting vaccinated and going along with government's industrial process you're being enhanced, while if you do not you're holding society back, are noncompliant and may be a threat to others. As James Corbett covers in The Corbett Report above, we're in the midst of:

3
"… the implementation of a medical martial law system presided over by unappointed, unelected, unaccountable public health authorities who now have literal control over your everyday movements, who are constructing a total surveillance grid that comes with it the prospect of not just vaccine passports but health passes generally, which will be used to restrict your ability to access public life and that you will be guilty until proven innocent of infection under this new paradigm that is being installed." The human/computer metaphor was also used in a 2017 TED talk by Dr. Tal Zaks, chief medical officer at Moderna, who referred to mRNA technology as "the software of life." Moderna, which was founded on the concept of being able to modify human biological function through genetic engineering, went on to develop one of the mRNA COVID-19 vaccines being pushed in the mass vaccination campaign. To get an idea of what's on the horizon, look no further than "Exploring Biodigital Convergence," a terrifying report by Policy Horizons Canada, which explores in detail "what happens when biology and digital technology merge."

8

 Policy Horizons Canada is a Canadian government organization, whose director general is Kristel Van der Elst, the former head of strategic foresight at the World Economic Forum (WEF).

GENOBILITY — CREATING A SUPERIOR CLASS OF PEOPLE                                 Wearable technology and neurotechnology are upon us, with brain computer interfaces and electrodes in development that would neurologically enhance humans. Currently, such interfaces are aimed at people with disabilities, but likely would progress into other "enhancements," like super intelligence or preferred physical traits.

17
Already, preimplantation genetic diagnosis is used to identify embryos without genetic defects, with claims that it will soon be able to screen for embryos with the highest IQ. CRISPR-Cas9 gene-editing technology has also been used to alter DNA in human embryos in a way that would eliminate or correct the genes causing certain inherited diseases.
THE PROPHETIC IMPLICATION OF THE MARK OF THE BEAST                                    With the current emphasis on the COVID-19 vaccine and the push to make it mandatory, some wonder if this is the mark of the beast. Well its setting the platform as a precursor to it!

While it appears that the mark will likely include a vaccine, any such injection before the start of the tribulation cannot be it. The church will be in heaven with Jesus well before the antichrist gains control of the world and forces everyone to take his mark under penalty of death.
Some wonder if its possible for someone to unknowingly accept the mark today. Again, the answer is no; the antichrist will require those who receive it to worship him. People with any understanding of Scripture during the tribulation, will know what the mark signifies as well as the consequences for taking it.
What is the key prophetic implication of the mark of the beast? The open planning for it among the world's richest and most powerful people tells us that the Lord's appearing to take us home must be exceedingly close since we know this happens before the start of the tribulation.

GREAT RESET WILL "LEAD TO FUSION OF OUR PHYSICAL, DIGITAL AND BIOLOGICAL IDENTITY" : KLAUS SCHWAB!                        Another key aspect to "The Great Reset," or the "fourth industrial revolution" as Schwab calls it, is merging man with machine.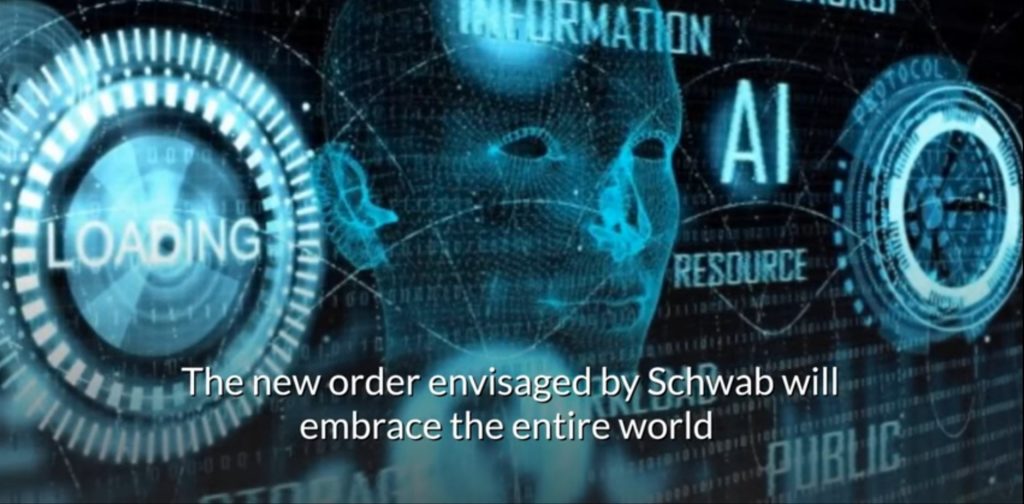 "What the fourth industrial revolution will lead to is a fusion of our physical, digital and biological identity," Schwab told the Chicago Council on Global Affairs.
Schwab explains with excitement how upcoming technology will allow authorities to "intrude into the hitherto private space of our minds, reading our thoughts and influencing our behavior."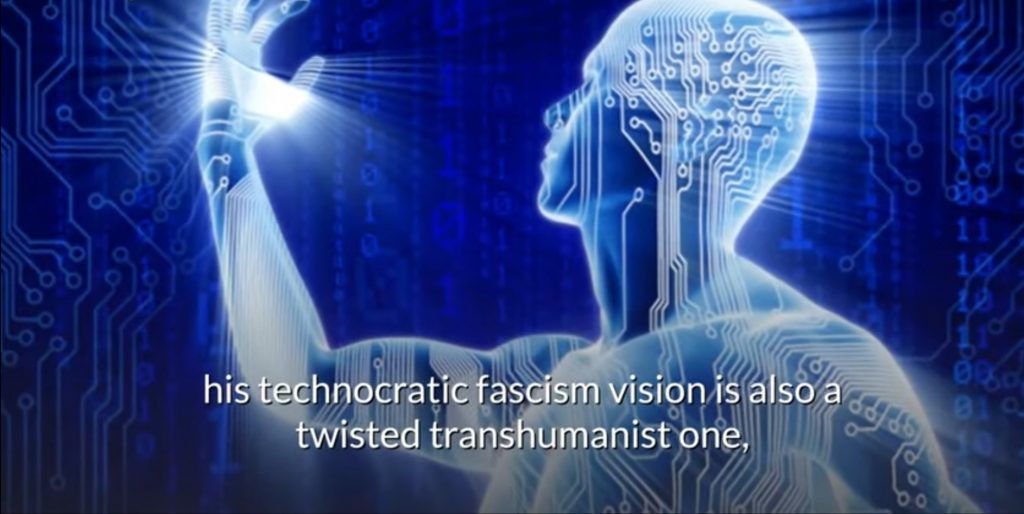 The globalist hails the arrival of "implanted devices (that) will likely also help to communicate thoughts normally expressed verbally through a 'built-in' smartphone, and potentially unexpressed thoughts or moods by reading brain waves and other signals."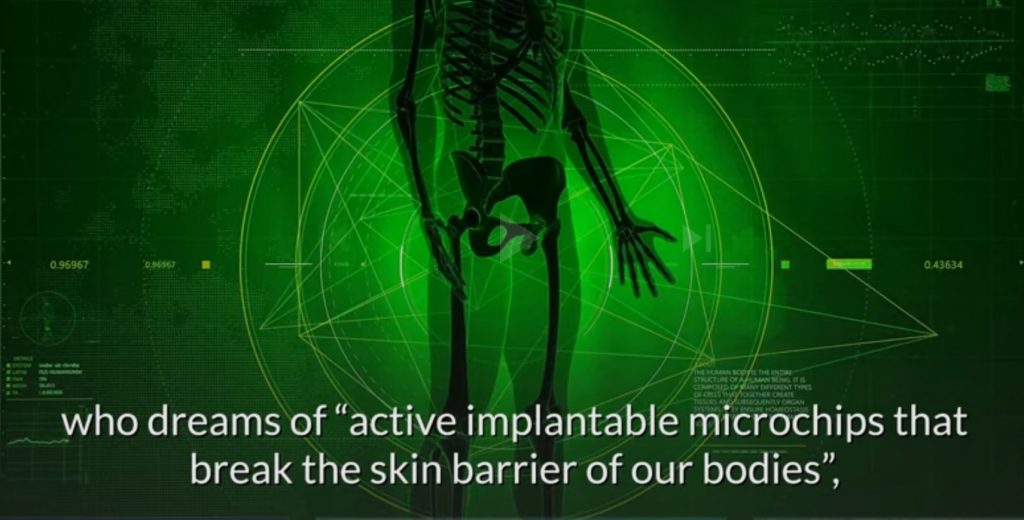 So in other words, the "fusion of our physical, digital and biological identity" relates to the transhumanist singularity and a future where people have their every movement tracked and every thought read by an implantable microchip.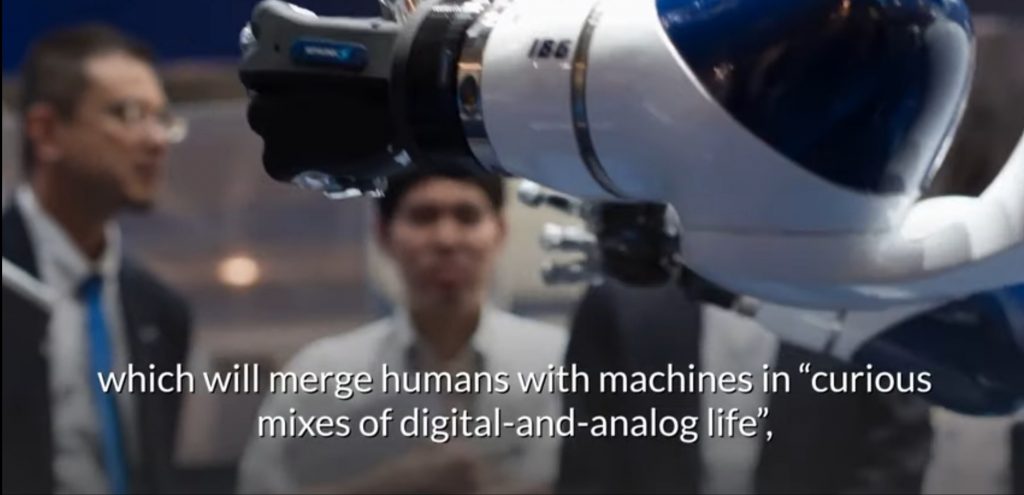 THE CORONAVIRUS: The MASK behind the MARK!
As Pastor J.D Farag stated…today it is a MASK very soon it will be a MARK!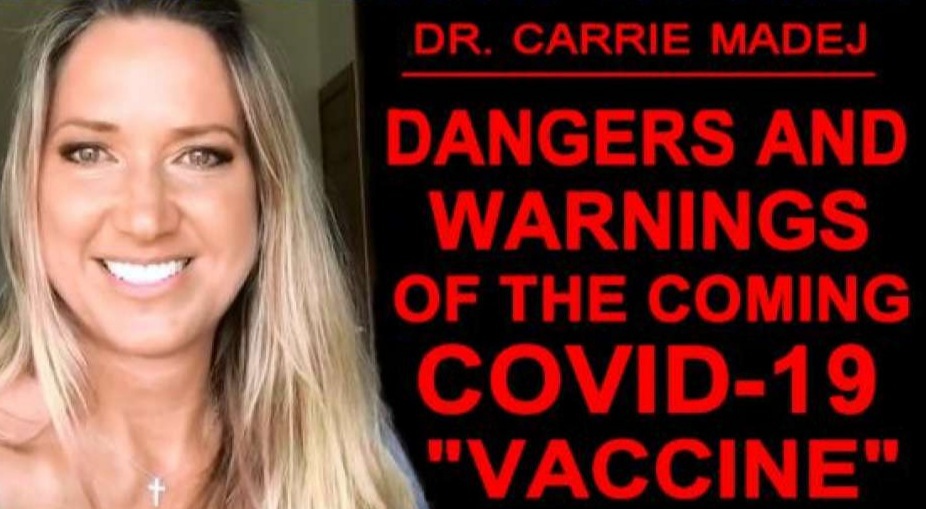 Doctor Carrie Madej studied DNA and vaccines for the past twenty years and made an urgent video in which she warns that there is a plan to inject humanity with very dangerous vaccines for Covid-19. The purpose of these new vaccines will be twofold: 
1) Reprogram our DNA and make us hybrids that are easier to control.
2) Connect us to artificial intelligence through a digital vaccine ID, which will also open a whole new realm of control.

A DARPA- FUNDED IMPLANTABLE BIOCHIP TO DETECT COVID-19 COULD HIT MARKETS BY 2021!
Remote control biology
In 2014, DARPA's BTO launched its "In Vivo Nanoplatforms" (IVN) program, which researches implantable nanotechnologies, leading to the development of 'hydrogel'.

This contact lens-like nanotechnology material requires a special injector to be introduced under the skin where it can transmit light-based digital signals through a wireless network like 5G.
DARPA-developed hydrogel technology, in tandem with Profusa's DARPA-funded light sensor technology, more than likely will deploy a coronavirus vaccine with the capacity to literally change our DNA!

HERE IT COMES: BILL GATES AND HIS GAVI VACCINE ALLIANCE LAUNCHING AI-POWERED 'TRUST STAMP' COMBINING A VACCINE AND DIGITAL BIOMETRIC ID IN WEST AFRICA!:
The program, which was first launched in late 2018, will see Trust Stamp's digital identity platform integrated into the GAVI-Mastercard "Wellness Pass," a digital vaccination record and identity system that is also linked to Mastercard's click-to-play system that powered by its AI and machine learning technology called NuData.

Masking ulterior motives…
Trust Stamp's biometric identity system, largely funded by Mastercard's massive investment in the company in February, utilizes a technology it calls Evergreen Hash that creates an AI-generated "3D mask" based on a single photo of a person's face, palm or fingerprint. Once this "mask" is created, much of the original data is discarded and encryption keys are created in place of a person's name or other more traditional identifiers!!
Microsoft not only funds ID2020 but they also filed a patent for a device that interacts with the pulse, temperature and brain waves connected to the human body for buying and selling cryptocurrecy!

Microsoft has patented a system that uses human biometrics such as body heat and brain-wave activity to mine cryptocurrency. The patent, filed under international patent number WO-2020-060606 and titled'Cryptocurrency System Using Body Data Activity', leverages human body activity as proof-of-work.

As to how body activity and biometrics will be communicated to servers and cryptocurrency hardware, the patent explains that "a sensor communicatively coupled to or comprised in the device of the user may sense body activity of the user." The patent then gives examples of sensors that can be used to this end – such as "fMRI scanners, electroencephalography (EEG) sensors, near-infrared spectroscopy (NIRS) sensors, heart rate monitors, thermal sensors, optical sensors, Radio Frequency sensors, ultrasonic sensors, cameras, or any other sensor or scanner."

This list of examples is just typical patent stockpiling, or Microsoft's way of ensuring they own every applicable aspect of this system. The real technology, with a sensor specifically made for detecting and keeping track of human biometrics, is a microchip implant being developed by a Danish Microsoft partner called BEZH International. After all, a microchip implant is the best sensor for bioemetrics as it is literally inside the body.

BEZH's microchip implant is not only capable of storing and transmitting biometrics – including medical and genetic data, but it also compliments the entire cryptocurrency mining aspect of Microsoft's patent as it comes with its own cryptocurrency, which for several months last year, was listed on cryptocurrency exchange Binance.

With this biometrics-based cryptocurrency mining patent and other human microchipping projects under his belt, namely the Birth Control microchip implant and theimplantable quantum-dot vaccination record capsules being developed by MIT, and ID2020 which is part of the United Nations' Sustainable Development Goals, it is so clearly evident Bill Gates is the most prolific cybernetic-biohacker on the planet. 

The Coronavirus Pandemic,the implantable quantum-dot vaccination record capsules and ID2020 are likely to be merged to create the digital certificates that Gates wants everyone to haveas proof of vaccination against COVID-19. This opens up the possibility of merging the two projects with the biometrics-sensing microchip implant being developed by BEZH!

MICROSOFT FILES PATENT TO RECORD AND SCORE MEETINGS ON BODY LANGUAGE!      Technology giant Microsoft has filed a patent for a system to monitor employees' body language and facial expressions during work meetings and give the events a "quality score".

SCRIPTURE: The world now has the capability via computers, Artificial Intelligence, surveillance and gigantic data bases to control buying and selling on a worldwide scale, just as Revelation 13:16-17 says the antichrist will do in the tribulation.
CURRENTLY IN PLAY : This is already on the way through chip inserts and tracking of products and bank accounts. With the world moving in this direction even before the appearance of the antichrist, how close must we be to the rapture and the tribulation?

The financial world is ready to go to a "digital currency"!!
The Central Banks are putting together a frame work for a digital currency, how will that come together?
On April 29th of this year the BBC recorded that the Coronavirus accelerated the decline of cash usage. The lockdown has led to a 60% fallen of a number of withdrawals from cash machines causing experts to say that the future of cash is at risk. The most small businesses have been restricting the use of cash since March.
On September 26th Cleveland President Loretta Mester announced in a speech on Central Bank digital currencies, now they're called CBDC's for short, that recent Legislation has proposed that each American will very very soon have an account instead in which digital dollars could be quickly deposited.
Two things immediately are accomplished with that, cash is eliminated and the Central Bank has control of everything. That does sound very similar to what the antichrist will use as foretold there in Revelation 13:16-17. 

For an authoritarian government to have complete control over every financial transaction Central Banks will begin consolidating and eventually it will only be one! The financial world could switch very quickly to a digital currency and do that in the very immediate near future!
This is setting the stage for Bible prophecy to be fulfilled found in the book of Revelation 13. This chapter in God's word is the most detailed information on how the Antichrist will set in place an economic system, a worldwide system for each person on Earth to participate in in order to be able to buy and sell, in fact to be able to sustain life, that's Revelation 13:16-17.

Revelation 13:16-18
16 And he causeth all, both small and great, rich and poor, free and bond, to receive a mark in their right hand, or in their foreheads:
17 And that no man might buy or sell, save he that had the mark, or the name of the beast, or the number of his name.
18 Here is wisdom. Let him that hath understanding count the number of the beast: for it is the number of a man; and his number is Six hundred threescore and six.
SCIENTISTS HAVE DISCOVERED A WAY TO STORE A PATIENT'S VACCINATION HISTORY "UNDER THE SKIN AT THE SAME TIME AS THE VACCINE"!
We are being told that the "microneedles" on each patch would consist of a mixture that includes dissolvable sugar, and once applied to human skin they would "partially dissolve"…

To many, this invention may sound like a much less painful method to deliver vaccines and a great way to keep track of who has been vaccinated.
But for many others, this sort of technology is a giant move in the wrong direction.  In addition to being a gross violation of our privacy rights, many are concerned that we could eventually be approaching the days warned about in Revelation chapter 13!
These headlines say it all…
▪︎ Master card joins block chain digital identity alliance ID2020!
▪︎ Rockefeller Foundation Paper Urges Testing and Tracing Entire US Population!
▪︎ H.R. 6666 a devil of a COVID-19 government surveillance plot!

▪︎ DOD And HHS Award $138 Million Contract to ApiJect Systems To Provide Prefilled COVID-19 Vaccine Syringes With RFID Microchip Tracking System!
▪︎ Clinton Foundation Discusses creating Army Of "Contact Tracers" to Monitor Citizens who had COVID-19!
▪︎ Bloomberg Philanthropies, in partnership with New York State governor Andrew M. Cuomo, has announced a $10.5 million commitment in support of a COVID-19 contact tracing program.
▪︎ H.R.6666 – To authorize the Secretary of Health and Human Services to award grants to eligible entities to conduct diagnostic testing for COVID-19, and related activities such as contact tracing, through mobile health units and, as necessary, at individuals' residences, and for other purposes!

▪︎ Pope says coronavirus vaccine must be shared worldwide!
▪︎ Cellphone monitoring is spreading with the coronavirus. So is an uneasy tolerance of surveillance!
▪︎ Inovio COVID-19 Vaccine Uses Electricity to Drive DNA Into Body Cells!!
▪︎ USC, Emory Creating Coronavirus Surveillance System Similar to China's Social Credit Scoring!
▪︎ Elon Musk" Brain connection between man and machine ready in a year"
▪︎ CV-1984: Facial Recognition Technology To Be Used To Combat Spread of Virus Globally!
▪︎ COVID-19 makes universal digital access and cooperation essential: UN tech agency!

▪︎ The Bill and Melinda Gates foundation and Intellectual Ventures are spending millions in creating a human implantable quantum dot micro needle vaccine mark with data storage that will work through an Enzyme Called Luciferase!
▪︎ Under the guise of fighting  covid -19 coronavirus, world governments are using digital surveillance at levels previously unimaginable!
▪︎ The Pentagon will use AI to predict panic buying, COVID-19 hotspots and GLOBALLY  thermal imaging cameras could play "critical role" in keeping people safe from COVID-19!!
▪︎ Pope Joins Forces with IBM, Microsoft to develop artificial intelligence (AI)!
▪︎ The GLOBAL ID2020 Covid-19 'IMMUNITY PASSPORT' combines digital identity with vaccinations, block chain and nanotechnogy!
▪︎ Back in 2018 Microsoft billionaire Bill Gates was among the first investors in a new start-up EarthNow aiming to build, launch and operate a collection of satellites that will deliver real-time video of the entire planet!
▪︎ ID2020 announces work is completed on first ever certification mark for 'Kiva protocal' implementing a global digital ID for buying and selling!

▪︎ COVI-PASS : The World's most secure Digital Health Passport, built on patented technology, awarded the 'Seal of Excellence' by the European Commission and being used by various United Nations Projects!!
▪︎ Thanks to COVID, Any Smartphone Can Now Be Tracked by Government Via Automatic Update!

▪︎ Digital health passport CommonPass begins testing to help travel and trade resume!
"The Commons Project Foundation is founded with support from The Rockefeller Foundation and based in Switzerland which along with the World Economic Forum announced the launching of international trials for CommonPass, a digital health pass for travelers to securely verify their COVID-19 test status."
▪︎ The issue of how to "motivate" vaccine compliance has generated increasing interest, with commentators such as Mike Cernovich writing: "Government won't force you to take vaccine. Amazon will. Airlines will. Banks will. You won't be able to buy, sell, or trade without the vaccine." (Arutz Sheva-11/26/20)
▪︎ Qantas Airlines to Make COVID-1984 Coronavirus Vaccination Mandatory for International Travel!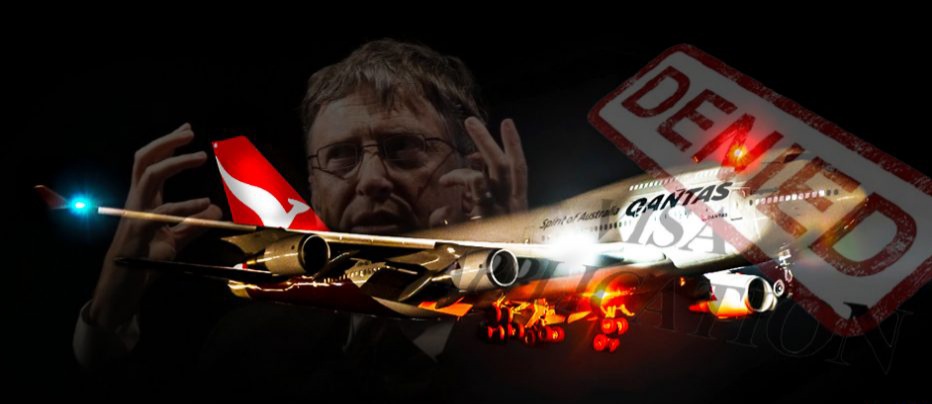 These innovations are creating the environment that the Antichrist and False Prophet will need to wire this world together for their evil purposes!
I call the coronavirus  the CONTROL VIRUS to usher in the NWO!!
The global power brokers at the United Nations, World Economic Forum, the British royal family, the International Monetary Fund and the Vatican have told us why COVID-19 has been identified as the key to launching a "Great Reset" of the global economic and social order with a global technocratic surveillance state that includes a new digital currency and digital ID system!
COVID was simply a prop, a triggering mechanism, for what global elites refer to as the Great Reset!! Everything we have been experiencing, it is all part of the Great Reset, that is the resetting of the entire world to prepare the people for the arrival of Antichrist! That's how close he is to stepping out of the shadows and onto the world stage!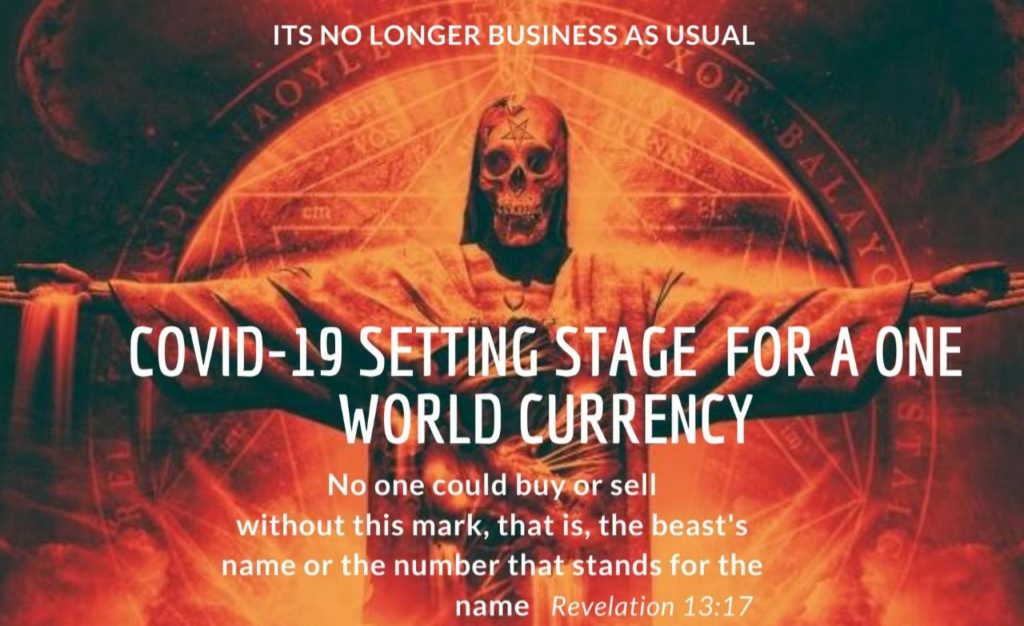 As this dispensation of the church age (The Age Of Grace) draws to an end, it's time for us to take our stand as  Children of the Light(1 Thessalonians) and tell a lost and dying world that it's time to repent, believe the Gospel, and be converted to a new life in Jesus Christ today! Explain to them with simplicity (Not Religion) the gospel of our salvation (1 Corinthians 15:1-4, Romans 10:9-10)!
If the whole world is preparing to unite in the New World Order, then Flight #777 on Titus213 Airlines is about to take off!